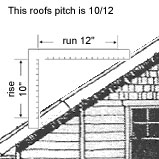 Calculate Roof Pitch



The pitch of your roof directly correlates to the height of your base. We need to know this measurement so we can give you enough base to accommodate your roof pitch.



How to Determine Roof Pitch


To determine your roof's pitch take a carpenters square and measure it against your roof as illustrated to the left.

1. Take down the run measurement and the rise measurement. That will give you your rise over run.
2. If you have a rise that is between two whole inch numbers, simply round up to the nearest whole inch.
3. Take your measurements and put them in as

rise/run.