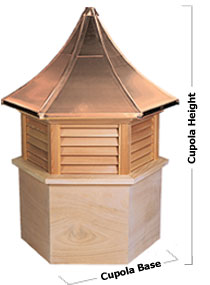 Presidential Hexagon Cupola Size



The basic dimension needed to order is the base size. We have set heights to ensure an appropriate proportion for this style of cupola.

In selecting the right size cupola for your home, barn or building, a good rule of thumb is 1.25" of cupola base size for every foot of 'unbroken' roof line. For example: if a roof section measures 20' the minimum cupola base size should be 25". Our experience tells us it provides for a more pleasing appearance.

To be certain about size, you can take a box with the same size base you want to order, cut out your roof pitch, and place it on your roofline. This will give you a true perspective of what your cupola will look like.